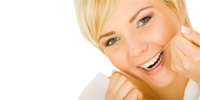 Welcome to Dental care.dk
Portal for you, that there has
questions to the dentist
,
interest to dentistry
or
looking for information about dental health, dentists, dentistry, job m.m.

[ Job: ]
Dental hygienist sought for the Section of Orthodontics, Aarhus Tandlægeskole
Aarhus University, Health, Department of Dentistry and Oral Health (Dentistry) want to fill 1 position as a dental hygienist at the Section for Orthodontics. The post The position is 16 hours per week pr. 1. september 2018, or as soon as possible thereafter. The working hours are 8 hours per day. day, Mondays and Thursdays. There may be the opportunity... [Read more]

[ News: ]
Have you been treated by dentists abroad?
Have you been treated by dentists abroad, and has subsequently experienced discomfort or complications? We are two journalism students from the University of Southern denmark, which is in time with a history of dental treatment abroad. If you have been a model or have experienced discomfort associated with dental treatment abroad, we would like to hear from you. Each... [Read more]

[ News: ]
New research: Mouthwash is harmful
Advertised heavily for various kinds of mouthwash in the television. That added up to that mouthwash can cure everything from bad breath to relationships, but now according to new research, that there is a downside. Mouth rinses contain often antibacterial substances and occupy you for many of them it can eventually lead to the development of resistance... [Read more]

[ Event: ]
SCANDEFA 2012 (Scandinavian Dental Fair)
SCANDEFA (Scandinavian Dental Fair) is the annual scandinavian trade fair for tandlægeteamet and dentalbranchen. The fair connects new knowledge about products, research and clothing, and has more than 10,000 visitors from Scandinavia and other countries, as well as over 150 exhibitors. The fair in 2011 had 11.422 visitors In parallel with the fair SCANDEFA 2012, as... [Read more]

[ News: ]
Easier to complain about the dentist
A new website has made it easier to complain if you are dissatisfied with the treatment at his private practice dentist. The new website has been created by Tandlægeforeningen in cooperation with the Danish Regions. The website is developed to make it more simple for patients to get an overview of what you can do if you are dissatisfied with the treatment... [Read more]

[ News: ]
Dental Fair trade fair cancelled
There was laid up for the big 25 year anniversary for the Dental Fair trade fair in Vejle. But now the organizers have cancelled the fair due to lack of interest. For over 24 years ago struck North-fair, a well-known trade show organizer in Jutland, the doors for the first time up for Dental Fair trade fair, where exhibitors, buyers, students, kursusholdere m.fl. from the dental... [Read more]

[ News: ]
How expensive is a visit to the dentist really?
What is the cost of a regular examination at the dentist? This is a question many have difficulty to answer, shows a study by Epinion made for Tandlægeforeningen among 1.003 danes. Many young people do not, that a regular study only costs 83 kr., when one is 18-25 years old, while adults over the age of 25 will pay 142... [Read more]

[ News: ]
Tandfix.dk – campaign for young people
Tandlægeforeningen is behind a new and different online campaign aimed at young people. Tandfix.dk called the portal with a sense of humor and irony to capture the interest of young people for their own dental health. Too many young people are dropping the regular visits to the dentist. It will Tandlægeforeningen now do something with a campaign that is targeted at young people in the 18-25... [Read more]

[ News: ]
Give your teeth a longer life
A new study shows that people who skip the regular visits to the dentist over, has far greater risk of losing some of their teeth, when they come up in the 50-years-of age and over. Even if the teeth look nice and fine out here and now, is it not a good idea to just skip tandlægebesøgene over. If you as a young person fails to go... [Read more]

[ News: ]
Children and adolescents have healthier teeth
The efforts of the children and ungdomstandplejen are now bearing fruit, and new figures from the Danish Health and medicines authority shows that the tandsundheden getting better and better for the country's children and young people. The new figures show that around three out of ten 18-year-old never felt the dentist's drill in a tooth. In 1990 it was one out of every ten 18-year-old who had never had the holes in the teeth that required... [Read more]

[ News: ]
Cheating with gold in dental crowns
The company Oversea Labs, over 900 Danish dentists use, and many have used for decades, have been unveiled in to dabble with, among other things guldindholdet in the crowns. It is DR news 21 Sunday – with the help of a dentist who could detect the alleged fraud. Cheap dental crowns from China The crowns from Oversea Labs is primarily... [Read more]

[ News: ]
Correlation between craving for sweets and alcoholism
In the following a new u.s. study, there may very well be the link between alcoholism in a child's family, and the child's own perception of depression, and the baby's cravings for sweets and other sweets. It shows just published research in the journal Addiction. The american researchers examined the sweetness of the preference in children with genetic... [Read more]

[ News: ]
Greater price transparency with dentists
From the 1. October it becomes even easier to check tandlægernes price levels on the internet. Tandlægeforeningen and Danish Regions have agreed that dentists should disclose the price ranges on the several treatments on the health.dk. Today, private dental clinics inform the from and to prices in eight services. The 1. October will be the number of... [Read more]
Next page "