Questions answered by the dentist can be posted on the portal in anonymous form. However, we can not guarantee answers to all the questions and answers from the dentist can never replace dialogue or consultation with a private doctor. A reply through the letterbox must be seen as informational material.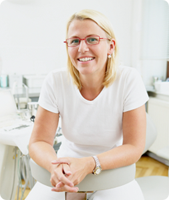 Last answered questions in the "Letterbox"
Training to the dentist
Question: My boy would like to read dentist but has a very low average in his grades up to 6 . He has the ability to read the tandplej and later were admitted at the dental studio either along the way or after he is finished as a tandplej. He just want to only read dentist 🙂 Hope for a good advice. If he gets tandplej , how much tjner... [See questions and answers]
Com bill not too fast?
Question: hi dentists, I have been tasked by my parents to find out a long time from the bill comes to paying, the episode was following my papfar had to be to the dentist, and the used 3000,- with a treatment that was not completely finished, so you could say it was a mellembetaling, for the first part. here the other day got... [See questions and answers]
loose tooth
Question: A tooth as I have gotten rodbehandlet about 5 years ago,has suddenly gone loose and can shake 1-2 millimeters. Is there a danger of the fall out ? mvh Berth Answer: Dear Kaj, It doesn't sound like a good sign when it suddenly is gone loose. It can be the is broken. You must seek out your dentist to have it be - or ruled out. Hope... [See questions and answers]
Gold or Silver?
Question: It is about the denture/teeth in gold/silver. For approx. 14. days ago I got the prosthesis no. 2. The first one I have had for a few years. This is gold-plated. When I got the prosthesis no. 2 was made of glossy metal. In advance, I have a greater molar which is also gold-plated. When I smile very much, one can see both metals from the outside.What is... [See questions and answers]
Should I go through a second kæbeoperation?
Question: Dear doctor I am a girl of almost 19 years, and has been under treatment in ca. 3 years now with specialtandlægerne in tooth-,mouth-and the department at Rigshospitalet in copenhagen. Before I was sent to the university hospital, I had an undershot mouth that I inherited from my father, and my teeth were very crooked. My upper was also very narrow. I got to know... [See questions and answers]
Violent pain
Question: I started a week ago to get the indescribable violent pain in my tooth, where it after some days felt as if all the teeth in the same side did hurt very much. I was at the dentist's today and was diagnosed with a hole, which had gone down to the nerve, which was causing the extreme pain. I have now got it made, but now... [See questions and answers]
Overbid
Question: Hello! I am a girl of 30 years who have overbid. I got nakketræk when I was in primary school, but was not good to use it and therefore stopped the treatment which I regret today. I would like to have fixed my front teeth. They stick too much out. But unfortunately I'm not interested in getting the railway tracks, but would very much like to have... [See questions and answers]
Large incisors
Question: Hello. I have a long time been really upset about my front teeth which stick out and are large in relation to the rest of the teeth in my mouth. I could well imagine what a recommended treatment will be. Have read about implantanter and/or porcelain crowns. Which one of the two would be the best option for me and is there at all... [See questions and answers]
Swelling and pain after operative tandfjernelse
Question: Hello. I got 3 days ago operated on a horizontal lying visdomstand out of the left mandible. The operation was very unpleasant when I had pain during it(which was also bad ex post). Now on the 3 day I seemed to have still sharp pain and a very nasty taste and lugti mouth, I get pennicillin and painkillers but... [See questions and answers]
2 year, and the gap in the teeth??
Question: Hello..... Sitting here with the worst feeling ever... the Feeling of, to be the worst mother!!! My daughter, 2 years old, has had "teething problems" with regards to teeth brushing... It was with the "abuse" that I had brushed her teeth. But the last few years there is progress, as long as... [See questions and answers]
It is not the dentist's responsibility?
Question: Got the 5/10 -2011 put a crown on a broken molar in the mouth, without rodbh. Now 2 months after I have hurt and can't chew, eat or drink cold/hot. Been at the dentist that has taken the rgt, nothing to see, nor inflammation, but was a precaution set in vipicombin bh 600mg. This has not helped. My question... [See questions and answers]
Problem with the 6 year tooth
Question: I've just been to the dentist and he found, unfortunately, yet again, the hole in a 6 year tooth. This is the fourth time there is a hole in this tooth, so eventually the right destroyed. It's only been 2 years since I last got the drill out and made a big plastfyldning in, but now there is a hole by the side of this. I had, unfortunately, also a... [See questions and answers]
Concern ang. treatment of gingivitis
Question: Hi, I am a girl of 17 (soon 18) years of age living in Aalborg. Recently told my dentist to me that I have gingivitis. Therefore, I've got a soft brush, flossing and the order to rinse the mouth 2 times daily in khlorhexidin in 14 days. I do all the above things, and have made it in 5 days. But my problem is... [See questions and answers]
Next page "