Questions answered by the dentist can be posted on the portal in anonymous form. However, we can not guarantee answers to all the questions and answers from the dentist can never replace dialogue or consultation with a private doctor. A reply through the letterbox must be seen as informational material.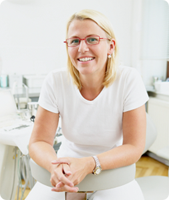 Last answered questions in the "Children"
Baby teeth
Question: Hi our daughter at 7 1/2, has only lost 2 baby teeth at the bottom of the mouth – is this normal?? There are no new teeth to look, at the top or behind her baby teeth and no rokketænder... Thought that you, as a 8 year old had most of his adult teeth? She was late to get his baby teeth... we need to do... [See questions and answers]
child 5 years
Question: My grandson 5 years old has a few holes in the teeth, but may not like to get the mask on so he can get nitrous oxide. He sits nicely up in the chair but when the mask is approaching he becomes very upset. Why can't they give him something soothing before he must have the mask on ?? I have heard other dentists do. Dentists... [See questions and answers]
Can milk give holes in children's teeth?
Question: Hello. I have a son of 6 years who like to ALWAYS have something to drink when he is in bed. He always get water because I believe it is the best when the teeth are brushed...BUT my gf does not think it does anything he get the milk??...can it really be??...seemed to always I have heard that milk can also provide holes... [See questions and answers]
Two-year-old boy may not like to get brushed teeth
Question: Hi all of you Our boy of 2 years has never really liked to get brushed teeth and now that he has become more independent it is almost completely impossible without that we feel that we are making attacks on him. We try to sing, read books, exchange ml alm toothbrush and electric but he cries and howls and squirms. Finally, I hold... [See questions and answers]
Use of the pacifier after 3 years of age
Question: Our daughter is still very dependent on his pacifier. And we as parents are very hard to take that comfort and needs from her. We were at the dentist for 4 months ago. As was her tandstilling fine. However, the dentist recommended that she should not use the pacifier after his 3 birthday. It is now two months ago and we believe... [See questions and answers]