Questions answered by the dentist can be posted on the portal in anonymous form. However, we can not guarantee answers to all the questions and answers from the dentist can never replace dialogue or consultation with a private doctor. A reply through the letterbox must be seen as informational material.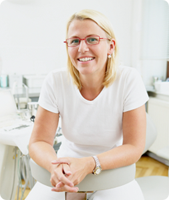 Last answered questions in the "Teeth"
loose tooth
Question: A tooth as I have gotten rodbehandlet about 5 years ago,has suddenly gone loose and can shake 1-2 millimeters. Is there a danger of the fall out ? mvh Berth Answer: Dear Kaj, It doesn't sound like a good sign when it suddenly is gone loose. It can be the is broken. You must seek out your dentist to have it be - or ruled out. Hope... [See questions and answers]
It is not the dentist's responsibility?
Question: Got the 5/10 -2011 put a crown on a broken molar in the mouth, without rodbh. Now 2 months after I have hurt and can't chew, eat or drink cold/hot. Been at the dentist that has taken the rgt, nothing to see, nor inflammation, but was a precaution set in vipicombin bh 600mg. This has not helped. My question... [See questions and answers]
Problem with the 6 year tooth
Question: I've just been to the dentist and he found, unfortunately, yet again, the hole in a 6 year tooth. This is the fourth time there is a hole in this tooth, so eventually the right destroyed. It's only been 2 years since I last got the drill out and made a big plastfyldning in, but now there is a hole by the side of this. I had, unfortunately, also a... [See questions and answers]
Can I have ground a tooth down?
Question: Hi, I have a very tip to the tooth. I almost just got my hanger and I actually well to the peace, except that I have a tooth, it goes much further down than the other teeth and when I smile I can feel it on my lips and if I push can I push it out of the mouth, while the other teeth are still inside the mouths.... [See questions and answers]
Bridge 3 led
Question: I have made a 3 part bridge, rear molar + the 2 next in undermunden. When I chew with the 3 part bridge, it seems not quite right – not quite the same bite. It is as if it is harder to chew in the side where the 3 part bridge. Outside my teeth nice tightly closed, but when I feel with tongue, I can feel... [See questions and answers]
You can get fixed teeth in him?
Question: You can get fixed teeth in him. Have had the rail before when I was a little less. But have talked with my doctor, he says it the same if you don't feel comfortable you should get it fixed. Panum I have heard a little about the students who undersøæger the teeth. But don't know if they can also fix the teeth as it is my... [See questions and answers]
The death of a tooth after affixed to the crown
Question: Hello I've got the makings of a crown on a molar,but I can still not chewing with the tooth. It is now almost 1 year ago, and the two times I have been cut something of the hump, as she believed this could be the reason for that I can't chew. This has not helped, and now consider my dentist to the nerve may be dying and that... [See questions and answers]
Can root canals be avoided by changing lifestyle?
Question: Hello. Thinking In the dentists never over whether root canals can be avoided by restructuring of the diet and their ways of life, as f.example,smoking, lack of exercise ? I have had many root canals, they first as a teenager and since then have teeth just not been in order and is now falling apart in small pieces, fordii no longer... [See questions and answers]
Is my tooth rodbehandlet?
Question: I have lost a crown, went to the dentist, who could tell me, that it could not be put in again when there was Karius in the tooth, also said that there was rodebehandlet,which I believe it is(it is a number of years ago). Pga. disease partly at the dentist and me, I have now gone with the "open" root in about a month, where it is... [See questions and answers]
Got suddenly, the space between the front teeth
Question: Hello, I am a boy of 20 years. I have always had reasonably nice teeth, and they have always been close to each other. But here the other da I noticed that have a little space between my two front teeth, they are sitting close enough up against the gums, but from the middle down to the tip is that got a small space. It is not... [See questions and answers]
Can fluorbehandling give dangerous side effects?
Question: Is flourbehandling necessary ? Can vædsken give dangerous side effects ? Anonymous Answer: Dear user, To use fluorbehandling to different kinds of treatments. It is always an evaluative case when it is necessary or not. There is not dangerous side effects of a fluorbehandling. If you swallow a lot of fluoride, it can cause stomach upset,... [See questions and answers]
Goes and bites the expediency and pushes the tongue against the teeth
Question: have always had space between the front teeth, for about 4 years ago I had filled it out with plastic. without problems. so about a year ago broke it and it was orderly. but since then I have had a tendesn I have not had before, with all the time to go and bite the expediency and pushing the tongue against the teeth. what caused it? is it something I... [See questions and answers]
All the teeth when not with each other when I bite together
Question: Hello! I got the d.2/11 Made a hole, acute with a new,young dentist who is employed in tandlægehuset where else I have had the same dentist for 25 years.She couldn't anaesthetise me properly and had to seek help from a colleague (my own dentist had free). she stuck with the needle about 12 times!! It turned out that the neighboring tooth also have... [See questions and answers]
Next page "