Questions answered by the dentist can be posted on the portal in anonymous form. However, we can not guarantee answers to all the questions and answers from the dentist can never replace dialogue or consultation with a private doctor. A reply through the letterbox must be seen as informational material.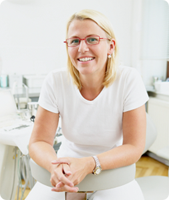 Last answered questions in the "Teeth"
Should the tooth be made for the 3. walk or be dragged?
Question: Hello. I got for approx. 2 years ago rodbehandlet my rear molar.Have nothing the label for the ago, but sat outside with the actual plompen in the hand yesterday.My question is, then, whether something happens by not sitting on.Or whether I should get it again for the 3rd time or if I just should have pulled the tooth out,since I soon will not... [See questions and answers]
Should the dentist grinding on a healthy tooth?
Question: I have been diagnosed with syreskade on a molar in the undermunden. That was put lacquer on as well as a plastfyldning on top of the old, because there was a hammock, ie. a large recess in the filling. When the dentist had to grind the filling, was the filling to be too high. When the opposite tooth in the mouth not filling and... [See questions and answers]
Give the lemon acid injuries to the teeth?
Question: Hello Read just the article on acid injuries. I drink approx. 1 liter of tea a day. Half of the aisles pushing I lemon in. It can also in the long run give the acid injuries? I eat an orange every morning – it would be better for my teeth if I ate the melon or the like? I am 55 years old and has beautiful teeth. Thank you in advance. Susanne Answer: Dear... [See questions and answers]
Can you remove a temporary crown?
Question: dear Dentist I have made crowns for my front teeth for cosmetic reasons. Since the one unfortunately is skewed and is 3 mm longer than the other, I must have made them. When I got them fitted for approx. 5 weeks ago, we agreed that they were cemented temporarily, so I could get used to them, and the only correct... [See questions and answers]
Can the inflammation go in itself?
Question: I have had an inflammation of a tooth. It was gradually better, and now there are no symptoms. It can go by itself? Anni Answer: Dear Anni, If you've got inflammation of a tooth, can it not go into itself again. The inflammation can flare up into an acute toothache. So look to get to the dentist before it happens. Hope you can use my... [See questions and answers]
Can milk give holes in children's teeth?
Question: Hello. I have a son of 6 years who like to ALWAYS have something to drink when he is in bed. He always get water because I believe it is the best when the teeth are brushed...BUT my gf does not think it does anything he get the milk??...can it really be??...seemed to always I have heard that milk can also provide holes... [See questions and answers]
Must be water on the toothbrush before brushing?
Question: Hello, I would like to know if it makes any difference if you put water on the toothbrush/toothpaste BEFORE you brush your teeth? I am aware that it is best not to rinse the mouth after brushing, but it doesn't matter with water on the brush before ? Thank you and with kind regards Hanne Answer: Dear Hanne, It really does not matter whether you... [See questions and answers]
Has a loose incisor. It must be changed out and what does it cost?
Question: hi, I'm stuck with a tooth that I 15 years ago got rodbehandlet and now it's gone loose. I'm the one who suffer a lot of dental phobia and is a little nervous.my dentist has mentioned before that it would be necessary with a rigid tooth. How does it work? should my tooth be torn out completely, it is very painful, how many times... [See questions and answers]
Got a wobbly tooth of the hanger
Question: I'm 17 years old, has a rail (hanger) and may have had a wobbly tooth. I'm quite worried because I think that I have lost my baby teeth a long time ago. what happens if it is a wobbly tooth and it is not a baby tooth there is a new tooth out or will there just be a hole? Polina Answer: Dear Polina, It... [See questions and answers]
Aching teeth after plastfyldning
Question: I have made a plastfyldning on the tooth 5 and 4. a week ago, but it freezes still in the two teeth. and when I touch with the tongue is it right that there is something there "release". At the same time when I use the dental floss between the two teeth,chilling it very much. Should I wait to contact my dentist. Inge Answer: Dear Inge, I... [See questions and answers]
Should I opt for root canal treatment?
Question: I am faced with, I think though, a big problem. Go out and travel a half-year on 5 January and since it is christmas ovs, I have not much time to see an. I got in november removed a temporary filling which I had and a half years. Got the temporary filling because I had a big hole where there was a piece of sølvfyldningen there... [See questions and answers]
Very sensitive tooth when I brush your teeth
Question: My 3. tooth from the middle of the overmund is very sensitive when I brush your teeth, take the cream or feel with your tongue but not when I chew. Go regularly to the dentist and have had several images, which all show a healthy tooth, so no treatment is offered. Any precedents? v. h. Carsten Answer: Dear Carsten, It suggests you... [See questions and answers]
Sensitive tooth after new filling
Question: I have 2 weeks ago had a filling in my 5. tooth in right over the mouth (spoken from the center). With the same stunning stopped working, I could feel a significant sensitivity when I chew on it. In addition, I can feel a strong tension in the palate and sometimes also in the tooth. These Symptoms came with the same stunning... [See questions and answers]
"Previous page — Next page "