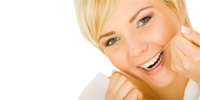 Welcome to Dental care.dk
Portal for you, that there has
questions to the dentist
,
interest to dentistry
or
looking for information about dental health, dentists, dentistry, job m.m.

[ News: ]
The address determines if your child gets cavities in the teeth
Most parents think that their residence may have an impact on whether their children will get tooth decay or not. A new Danish study shows that there is a strong correlation between the children's and young people's place of residence and the risk of caries (holes in teeth), writes Tandlægebladet. Fluorkoncentrationen in the tap water that comes out... [Read more]

[ News: ]
Fewer side effects of teeth whitening at home
A new study shows that about half of the patients that are getting bleached teeth, are experiencing side effects bl.a. in the form of aching in the teeth and irritated gums. In the study followed 171 people through an tandblegningsprocedure and in a follow-up of 9-10 months. Approx. half of the subjects received side effects of tooth whitening, and... [Read more]

[ News: ]
A dry mouth provides poorer quality of life
Pronounced dry mouth can lead to a significantly impaired quality of life. Dry mouth can occur after cancer treatment, as side effects to the medicine as well as by certain diseases. Patients with severe dry mouth often find that the natural teeth are attacked by an aggressive form of caries, which can cause the teeth to crumble away. For the individual deteriorate... [Read more]

[ News: ]
Advertisements for toothpaste and mouthwash shoots well over the goal
A clean mouth for up to 12-24 hours. This is the sound it is often in commercials for toothpaste and mouth rinses, but the claims made in the advertisements is often untrue. Therefore, many consumers around with totally unrealistic notions of what type of products can accomplish. It says leading dentist Bo Danielsen, who focus on the problem at Tandlægeforeningens... [Read more]
[ News: ]
"Sweet" cultural background affects children cariesrisiko
If the mother and father have a short education or non-western background, the risk of caries in children is significantly larger than that of the average. It shows a new Norwegian study, published in Community Dentistry and Oral Epidemiology. In the survey received 523 children made tandundersøgelse, while the parents responding to questions about the socio-economic... [Read more]

[ News: ]
Better oral hygiene can save respiratorpatienters life
One of the most frequent complications in patients in hospital intensive care units are pneumonia. Lungeinfektion in connection with respiratory therapy affects not only older people, but weakened patients of all ages. In a large american study, recently published in the American Journal of Critical Care, researchers examined the... [Read more]

[ News: ]
Dentists want greater fee for no-shows
Some of the dentist's rates are established in the so-called tandlægeoverenskomster, to be concluded between the Tandlægeforeningen and the Danish Regions. As the negotiations between Tandlægeforeningen and Danish Regions began in February 2010, it was bl.a. with a desire from the Tandlægeforeningens page to discuss a higher udeblivelseshonorar at agreed greater... [Read more]

[ News: ]
Lower sugar levies provide lower teeth
It is a bomb, in particular the children's and young people's dental health, sugar levies has fallen every year since 2001. It says Tandlægeforeningens president Susanne Andersen in a comment to the new information from the ministry of finance. – We can see that the portions have become larger over the last ten years, and it is hardly unlikely that it has anything... [Read more]

[ News: ]
Higher subsidies for dental care in Norway
Among the Norwegian government's election promises was that it would extend the subsidy to voksenbefolkningens dentistry. It must partly be done by making the examinations free of charge for people over 75 years of age, and may impose a ceiling for an upper user fees on an annual dkk 3,000., after which the public provides completely or partially the grant for other expenses.... [Read more]
[ News: ]
Oral care is important for the plejehjemsbeboeres nutritional status
Oral care improves nutritional status in dependent elderly show a japanese study. Good oral care has an influence on BMI and cholesterol in the elderly 53 nursing home residents were included in the study. Which got a group of professional oral care three times weekly for a year. A second group served as the control. When the year had elapsed, had people... [Read more]

[ News: ]
No-shows giving rise to the risk of caries in children
No-shows increases the risk of caries in children No-shows from tandlægeaftaler, dental phobia, as well as parents who are avoiding dental treatment, are risk factors for the development of caries in children, shows a new Swedish study. The survey includes more than 500 children and their parents. The Swedish authors conclude that children who have a... [Read more]

[ News: ]
As smoking cessation alters the bacterial flora in the mouth
Mouth's bacterial flora is changing in people life smoke American scientists now believe to have found one of the reasons that people who quit smoking get a better dental health. Life you tobacco happens there are some changes in the mouth bakterieprofil. Already after six months, there is a significant difference between the bakteriefloraen,... [Read more]

[ News: ]
Tungepiercinger provides sponge
2 out of the 10 piercings in the tongue allows the fungus in the mouth A study published in the journal Oral Diseases shows that tungepiercinger gives the sponge. In an israeli study were 115 young healthy tungepiercede persons, compared with 86 healthy young people with piercings outside the mouth. Twice as many of the tungepiercede (20 %) proved to have fungus. Read... [Read more]
"Previous page — Next page "