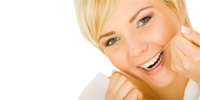 Welcome to Dental care.dk
Portal for you, that there has
questions to the dentist
,
interest to dentistry
or
looking for information about dental health, dentists, dentistry, job m.m.

[ News: ]
The elderly do not know to hjemmetandpleje scheme
Hjemmetandplejen is on offer to older people and difficult people with limited mobility, who find it difficult even to give dentistry a visit. However, several hundred elderly in the municipality of Aalborg, miss out on the offer of dental care in the home, because they do not know to the scheme, writes tv2/nord. Equipped with a small tandlægekuffert can dentist resolve most tasks in the home,... [Read more]

[ Event: ]
Scandefa 2010, Scandinavian Dental Fair
SCANDEFA (Scandinavian Dental Fair) is the annual scandinavian trade fair for tandlægeteamet and dentalbranchen. The fair connects new knowledge about products, research and clothing, and has more than 10,000 visitors from Scandinavia and other countries, as well as over 150 exhibitors. In parallel with the fair SCANDEFA, arranged by Bella Center, is held year course,... [Read more]

[ Article: ]
The braces for orthodontics
In the past, orthodontics something that was reserved for children, and it was thought that it was too late to get fixed teeth when you were a little older. But it has the technological development and new types of braces made. Today you can get fixed teeth, regardless of age. Treatment The processing time depends on how much needs to be paid up on the teeth,... [Read more]

[ News: ]
Dental care for homeless people and social vulnerable spreads
It is no longer only at Bisserne in Copenhagen, that homeless people can get their teeth. Aalborg, Randers, Odense and Aarhus, have now also been granted money to tandplejetilbud to the social vulnerable. At the same time the Copenhagen look forward to another clinic. – It is absolutely amazing, that socially disadvantaged people in several places in the country can now get their... [Read more]

[ News: ]
The dentist must know everything about your medication use
The dentist need to know if you are taking medication or suffer from something. Many patients forget to inform about their medication use, but it can prove to be crucial to the outcome of a dental treatment that the dentist is informed. Up against every tenth dane takes blood-thinning medication to prevent blood clots. But while blodpropperne... [Read more]

[ News: ]
The nipple on the tommefinger can provide dental problems
Narresutten, also known as the nipple on the thumb, can give children overbid or open bite. It shows a new study of suttevaner with pre-school children documented in World Journal of Orthodontics. In the study, a group of 34 preschool children divided into three groups: A group with sutteflaskevaner, a feeding and narresutvaner... [Read more]

[ News: ]
Cheaper to go to the dentist
The wise men of The Economic Council is now proposing that it should be cheaper to go to the dentist. In turn, the system must be financed by higher user fees when visiting a private doctor and the emergency room. In the economic wise men efterårsrapport, which appeared 22. October 2009, gives the wise men their bid for a more equitable state support to the... [Read more]
[ News: ]
Older people with dementia suffer from poor oral hygiene
Dementia brings great changes – also as regards the tandsundheden. Research shows that there is a clear link between dementia and poor oral hygiene. The medicine, people with dementia taking, also, that they get dry mouth, which allows a much greater risk of dental caries and fungal infections. Dentists, caregivers and families must... [Read more]

[ News: ]
Tooth decay is transmitted from adults to children
It is probably very few new mothers, who know bakteriesammensætningen in their own saliva and probably even fewer that know this have an impact on their child's dental health the rest of his life. Kisses and hugs are fine, but contact and exchange of saliva can transfer the "cariesbakterier" from mother to child. Parents should be better informed, sounds assessment... [Read more]
[ News: ]
Bad breath is often constipation
Recent Danish research shows that the explanation of bad breath, often to be found further down than in the oral cavity. The culprit may be constipation, which is the case in up to every fourth patient complaining of bad breath. The solution is usually a healthier lifestyle. Senior physician at the Surgical Department at Hillerød Hospital Tarmlaboratorium... [Read more]

[ News: ]
Children in Kalundborg, denmark has more holes than the average
A lokalsamarbejdsudvalg within the municipal dental care warns against a money-saving lifestyle, which puts up to the children first must be summoned to the dental examination at two years of age, instead of as now by a year of age. Every seventh child lives in a socially deprived home Lokalsamarbejdsudvalget states that every seventh child in the Kalundborg municipality. [Read more]

[ News: ]
Parents do not take responsibility for the children's dental health
Two out of five parents defying Tandlægeforeningens recommendations, and does not help their children to brush their teeth, shows a new study carried out by Codan forsikring. In the following the study has almost every fourth child under 11 years of age in day one or more holes in the teeth. While 44 percent of all children eat candy, two to three times a week. Parents... [Read more]
[ News: ]
Aarhus shedding 70 percent of the skoletandklinikkerne
The great shortage of dentists, and the children's improved dental health, get now Aarhus municipality to change the current structure of the tandplejeområdet. Skoletandklinikkerne be reduced by approx. 70 percent and dentists must be in a storklinikker. The city council of Aarhus municipality decided Wednesday evening to gather skoletandlægerne on 10-16 storklinikker,... [Read more]
"Previous page — Next page "