11. may 2010  
Filed in News
Most parents think that their residence may have an impact on whether their children will get tooth decay or not. A new Danish study shows that there is a strong correlation between the children's and young people's place of residence and the risk of caries (holes in teeth), writes Tandlægebladet.
Fluorkoncentrationen in the tap water that comes out of the taps in the home, can have a crucial impact on their children's cariesrisiko. Children who live in Siberia, are twice as likely to get tooth decay as children living in the southeastern part of Zealand and on Lolland-Falster, Møn and Bornholm, where fluorkoncentrationen is the highest.
There is a big difference in fluorkoncentrationen in the drinking water, depending on where you are in the country. If one lives as a child or young person in an area where there is a high concentration of fluoride in the drinking water, it may mean that the risk of getting cavities in the teeth can be half as great as in an area where fluorindholdet is low – for example in west Jutland, where the risk of getting holes in your teeth is up to twice as large as the areas where fluorkoncentrationen is a maximum. The more fluoride in the water, the fewer holes.
The survey is conducted among 48.351 children 5-years of age and 43.848 15-year-olds in the entire country.
Here you can see what fluorindholdet in the drinking water is in your area. Click on the image to see the bigger picture.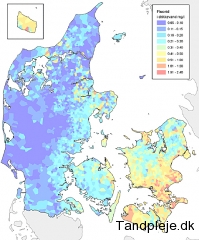 ---
Read more in Tandlægebladet no. 6 2010 or on the www.tandlaegebladet.dk