27. april 2012  
Filed in News
Advertised heavily for various kinds of mouthwash in the television. That added up to that mouthwash can cure everything from bad breath to relationships, but now according to new research, that there is a downside. Mouth rinses contain often antibacterial substances and occupy you for many of them, it may ultimately mean that you are developing resistance to antibiotics, writes bbc News.
The danger of resistance
At Tandlægeforeningen is one just been made aware of the problem.
– The mundskyllevæsker available, containing either alcohol or antibacterial agents, and if you put antibacterials in something that you use every single day, so it would be inappropriate, because there may arise resistance, explains Ole Fields, who is a dentist and a vice president of Tandlægeforeningen.
One becomes resistant to antibiotics, it can mean that the body gets more and more difficult to fight infections for example in the oral cavity or other sites in the body.
Mouthwash should not be used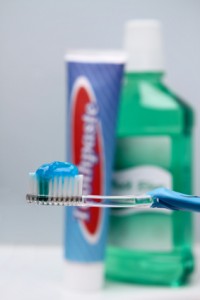 The results were on Thursday presented by Tandlægeforeningens year course of the Norwegian professor and the dentist Anne Scheie, who is behind the research. She recommended that one generally should not use mouthwash.
– In general, normal healthy people do not need to use such products. Instead, they must learn how to use their toothbrush, floss and brush between the teeth. It is in the long run also the cheapest for patients, says Ole Fields.
Only symbolic value
There is not much good to say about the mouthwash according to Tandlægeforeningen.
– The only thing I can see as a dentist is that some people think it is more interesting to fit his mouth. But we would not recommend that you do this every day, because it is not necessary for the normal patient, explains Ole Fields.
According to Ole Fields, there is a very small group of people, how mouthwash can benefit and he recommends that you ask with his dentist, if you are in doubt.
14. april 2010  
Filed in News
A clean mouth for up to 12-24 hours. This is the sound it is often in commercials for toothpaste and mouth rinses, but the claims made in the advertisements is often untrue. Therefore, many consumers around with totally unrealistic notions of what type of products can accomplish. It says leading dentist Bo Danielsen, who focus on the problem at Tandlægeforeningens was studying 2010.
A tooth brushing can not be replaced by a fancy product that promises gold and green forests. You can't make a shortcut to a healthy oral hygiene. You have to make a own effort to remember to brush his teeth thoroughly. Moreover, the fluoride in the toothpaste is the most important thing in order to avoid getting cavities in the teeth, says leading dentist, MBA, MIL Bo Danielsen from ST. petersburg, Dentistry in Aarhus. Bo Danielsen is among the presenters at the Tandlægeforeningens year course, which takes place 15.-17. april 2010 in Bella Center in Copenhagen.
Toothpaste and mundskyllevæsker can be to make brushing a little more comfortable and give a sense of purity and freshness in the mouth. But if it really were the case that these products could in itself keep the mouth clean for up to 12-24 hours, so we would dentists enough be informed about it, " says Bo Danielsen.
My advice to consumers: "Drop the high-priced products, brush your teeth thoroughly with a toothpaste containing fluoride", emphasizes Bo Danielsen.
He put together with the dentist, ph.d. Alan Richards focus on what advice the dentists and tandplejerne can provide their patients about the use of toothpaste and mundskyllevæsker on Tandlægeforeningens was studying 2010. Year course is Denmark's largest kursusarrangement in the field of dentistry and brings together this year over 3000 dentists, dental hygienists, dental assistants and others with an interest in dental health.