Questions answered by the dentist can be posted on the portal in anonymous form. However, we can not guarantee answers to all the questions and answers from the dentist can never replace dialogue or consultation with a private doctor. A reply through the letterbox must be seen as informational material.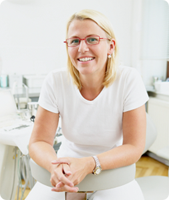 Last answered questions in the "Choosing a dentist"
Dentists who treat without drilling
Question: I have read in bt that you ca make teeth without drilling. I would like to have one or more addresses of dentists who use the technique. I live in Børkop, between Vejle and Fredericia. My dentist is located in Middelfart. Sincerely, Kirsten Answer: Dear Kirsten, I assume that you must have read this article in B. T. 19. april 2010 "Finish... [See questions and answers]
Got your teeth destroyed by Cluster headache
Question: I have since 1997 had a Cluster migraine, it will say it took some years before some found out completely a huh I failed.. in the periods I have seizures, it is very violent, the pain is not to keep out, and the hammer head in the wall to get a different pain.. I have so within the last 4-5 years begun to crunch my teeth and can... [See questions and answers]
Can a Danish dentist correct mistakes made abroad?
Question: I am a pensioner 73 years old. In the summer I made a bridge in Poland. My problem is that the bidet feels wrong,it few drinks, and hurts when I eat. Can a dentist here right up on it? Poland is excluded. Mona Answer: Dear Mona, You must find a dentist who can correct it, or help you with your problem. You will as a rule be... [See questions and answers]
The anesthetic against dental phobia
Question: I suffer from dental phobia much would hear whether I could get general anesthesia. Majbrit Answer: Dear Majbrit It is the absolute last resort when you choose to put a patient in the general anesthesia. There are other forms of treatment of dental phobia, blah. hypnosis, acupuncture or premedication with a sedative before each treatment.... [See questions and answers]
Where can I find a dentist that can give anesthetic treatment?
Question: Where can I find a dentist that can give anesthesia treatment, as general anaesthesia does not work on me. I live in", by Randers. Can it really be that there might be a three month waiting period? I would like to have made my holes by the year 2010. Christina Answer: Dear Christina, Your own dentist can refer you to a dentist... [See questions and answers]
General anesthesia from dental phobia
Question: I suffer from dental phobia. But may not postpone the dentist visit any longer. Can I get treatment under general anesthesia? Mille Answer: Dear Mille It is the absolute last resort when you choose to put a patient in the general anesthesia. There are other forms of treatment of dental phobia, blah. hypnosis, acupuncture or premedication... [See questions and answers]