Questions answered by the dentist can be posted on the portal in anonymous form. However, we can not guarantee answers to all the questions and answers from the dentist can never replace dialogue or consultation with a private doctor. A reply through the letterbox must be seen as informational material.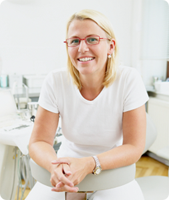 Last answered questions in the "Pain and Anesthesia"
Violent pain
Question: I started a week ago to get the indescribable violent pain in my tooth, where it after some days felt as if all the teeth in the same side did hurt very much. I was at the dentist's today and was diagnosed with a hole, which had gone down to the nerve, which was causing the extreme pain. I have now got it made, but now... [See questions and answers]
Pain after replacement of amalgam fillings
Question: Hi, I've just changed the 8 amalganfylninger. After this treatment, I can't chew on the second enn myk food. It is smertefult y drink cold and hot. It is smertefult if I biter my tender hard together. Are the new composite fylninger for myke? Or must it porselen fylninger for? Mvh Torstein Answer: Dear Torstein, It is very... [See questions and answers]
Pain again, again
Question: My 5'is in the left-hand sides undermund hurts. I have had problems with dental pain in the for several years. It is rodbehandlet, but still pain. Drilled out again. Still feel pain. Penicillin, Primcillin several times and Metronidasol 1X. Last roddehandl.for almost 3 years ago, where I was given penicillin several times. The dentist said... [See questions and answers]
pain/inflammation after tooth extraction
Question: I hope you can help me to an explanation of the following: I have a plastfyldning in the right undermund(molar) multiple times is built up because of the tooth was well worn and not much left. but so it happens that breaks something again and goes enough with it for long, for I suddenly get pain in the tooth and the pulling up of the neck... [See questions and answers]
The death of a tooth after affixed to the crown
Question: Hello I've got the makings of a crown on a molar,but I can still not chewing with the tooth. It is now almost 1 year ago, and the two times I have been cut something of the hump, as she believed this could be the reason for that I can't chew. This has not helped, and now consider my dentist to the nerve may be dying and that... [See questions and answers]
Is my tooth rodbehandlet?
Question: I have lost a crown, went to the dentist, who could tell me, that it could not be put in again when there was Karius in the tooth, also said that there was rodebehandlet,which I believe it is(it is a number of years ago). Pga. disease partly at the dentist and me, I have now gone with the "open" root in about a month, where it is... [See questions and answers]
There are various kinds of anesthetics?
Question: I had a hole that had to be made. As I usually do, I got stunning. After about an hour I became dizzy and got nausea, it may be due to the anesthesia? Is it possible to get other anesthetics? I still have a lame area where the anesthesia was put in (it is 3 days ago) is this normal? Jette Answer: Dear Jette, Yes! It is different... [See questions and answers]
Pain that pulls down the jaw and neck
Question: Had pain in a molar in undermunden and it pulled down the jaw, neck and sometimes in the ear. Had it as if some of the glands were raised, but it said my doctor that they were not. The dentist found a crack in the kindtanden and I have changed my sølvfyldning from silver to plastic and now it is soon 4 weeks ago. Practice I feel... [See questions and answers]
To pull two molars. Can I get general anesthesia?
Question: Hello. I must have removed the two molars because there are holes in them. I fear it is real. There is well a month for the first out. What opportunities are there for stunning. If it stood to me I should just in general anesthesia and then wake up when they are finished, but it is surely not a possible??? Rasmus Answer: Dear Rasmus, The... [See questions and answers]
I have had toothache for over a week now
Question: Hello. I HAVE FAFT TOOTHACHE for OVER A WEEK NOW WITH MANY HAUNTING AND ISSYL-LIKE SENSATIONS NOW. I WAKE up ALSO at NIGHT WITH IT AND SO IS THE WHOLE UNDER AND UPPER jaw IN RIGHT SIDE THAT HURTS, AND I EAT PAINKILLERS EVERY DAY. I JUST GOT A TOOTH RODBEHANDLET IN the MOUTH IN the LEFT SIDE, WHICH HAD a HARD time TO FALL... [See questions and answers]
Should the anesthesia does not eliminate the pain?
Question: Hi.. I've been at the dentist to get drilled two holes for the first time today. I have never been drilled before, and therefore it was also the first time I was stunned. I don't feel the anesthesia worked because I could feel pretty much everything, and it did really really hurts, got the chills and shook very much – was... [See questions and answers]
Got your teeth destroyed by Cluster headache
Question: I have since 1997 had a Cluster migraine, it will say it took some years before some found out completely a huh I failed.. in the periods I have seizures, it is very violent, the pain is not to keep out, and the hammer head in the wall to get a different pain.. I have so within the last 4-5 years begun to crunch my teeth and can... [See questions and answers]
Should I opt for root canal treatment?
Question: I am faced with, I think though, a big problem. Go out and travel a half-year on 5 January and since it is christmas ovs, I have not much time to see an. I got in november removed a temporary filling which I had and a half years. Got the temporary filling because I had a big hole where there was a piece of sølvfyldningen there... [See questions and answers]
Next page "