Questions answered by the dentist can be posted on the portal in anonymous form. However, we can not guarantee answers to all the questions and answers from the dentist can never replace dialogue or consultation with a private doctor. A reply through the letterbox must be seen as informational material.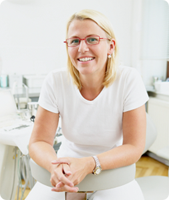 Last answered questions in the "Mouth".
Sting after the removal of the visdomstand
Question: Hello I have 14 days time ago been up and have removed my visdomstand in undermunden. Here said my tandlaege that the stitches would disappear by itself. I have least in other places, that it is normal to have them removed within a week, since traaden else can get to grow together with the meat. Now I'm starting to become a bit concerned... [See questions and answers]
Rubs a rodspidsbetændelse?
Question: I have been going around in ca. 1 year with a sore rodbehandlet tooth (5+ left side overmund) with crown. So since the 1. February 2010 had violent toothache in the 7+ (left side overmund) + jaw. Long rush (no keg), reaction to cold and touch of the tooth and also something smelly from the gums. The tooth has not filling. At the same time... [See questions and answers]
I've got a blodansamling in my cheek?
Question: Hello. I've got a visdomstand out, have been told that there has been inflammation in it. My cheek is really big, like I have a tennis ball in one side of the mouth, a colleague says that it can be a blodansamling in my genre is that correct? If yes, when will disappear and you can do something even for that, it will disappear faster? Christina Answer: Dear... [See questions and answers]
Genes after tooth extraction
Question: Hello, I got 3 weeks ago removed the forsidste molar in the ve. side of the upper jaw, unfortunately, smoke the very last also, as well as bone mass. Got a 10 day penicillin as well as instructions not to cough, sneeze, etc. because that could go a hole in the membranet to bihulen, pga. the lack of bone mass. Stitches removed, everything ok according to. the dentist,... [See questions and answers]
Is there a connection between infected teeth and stress?
Question: You know that stress can cause bad teeth. There exist studies that demonstrate the relationship the other way around – that one or more bad ( infected ) tooth/teeth can be the cause of stressymptomer in the form of dizziness, visual disturbances, and difficulty concentrating. Gitte Answer: Dear Gitte, Interesting question,... [See questions and answers]
Bitter taste in the mouth after plastfyldning
Question: 've got is plastfyldining today, (Molar 2 Surfaces)And that seeps a bitter taste in the mouth..is this normal? Lise Answer: Dear Lise, The varnish we use before we fill the tooth with plastic, it may well taste bitter. But it is not something that should be to taste. If it remains, contact your dentist. Hope you can use my answer. With... [See questions and answers]
Complications of the nose after surgery
Question: I have just been rodspidsamputeret a molar. I have been very irritated from næserodene and go to the wound. Slightly raised and thumps in the næsefløj. I then started to raise around the tooth, and there was found inflammation. My gums from the tooth and up into the roof of the mouth is very irritated. After finishing pondocillin and metronidazole treatment... [See questions and answers]
You are not allowed to drink coffee in 4 days after the operation?
Question: Is it really that you are not allowed to drink coffee and black tea in 4 days after visdomstand was removed? ira Answer: Dear Ira, It is not something I know. Only in two days after surgery, one must keep themselves from all that is hot, both food and drink. The heat causes the your blood vessels to expand, which provides increased risk... [See questions and answers]
Big hole after removed visdomstand
Question: Hello I've just been at the dental school in copenhagen where I had removed the lower visdomstand pga. inflammation. I got rid of my stitches in for 4 days ago and have not seen the scale before now where I was very shocked that there was a big hole. It is so deep that I would argue that ease be able to get the leftovers down... [See questions and answers]
What caused swelling in the gums?
Question: I've got a crown on -6 and several times seen laterally a swelling in the gum and tried with penecillin and several times klorheksidin pasta but it comes back, it is very sore when I press on the swelling,what can it caused?? Brian Answer: Dear Brian, It suggests that the tooth must rodbehandles. There is most likely a... [See questions and answers]
Is the oral mucosa good to reconstruct itself?
Question: Hello! I got rid of a mucosele for about 3 months ago. Since the dentist had suspected that there was still something of mucoselet back I had removed a little more 2 months later, which turned out to be scar tissue that lay back (was quite a few millimeters). Now it's a month ago and it has healed fine but is a notch down in the top... [See questions and answers]
Tend to undershot with the wear on the incisors and tyggeflader
Question: Hello!I've been at the dentist.I tend to a little undershot and the slider of my front teeth on the back quite strongly, and tyggefladerne. The dentist said the solution was to raise the bit so the front teeth don't wear out.There were 14 crowns in overmund. The dentist modelerede plastic on my teeth and found a height up so slulle put crowns... [See questions and answers]