Questions answered by the dentist can be posted on the portal in anonymous form. However, we can not guarantee answers to all the questions and answers from the dentist can never replace dialogue or consultation with a private doctor. A reply through the letterbox must be seen as informational material.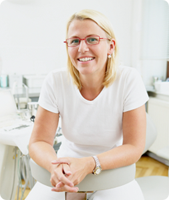 Last answered questions in the "Complaints"
The dentist have sanded too much in a penny
Question: Hello I've got a new crown put on a tooth which she ladle! And when the new crown was put in and I was comfortable that was the little too big / tall!! she ladle it a little bit, and it came to fit. But when I then came home and kikket in the mirror I could see that she has sanded too much in the new crown of which is sanded down to something black!!!... [See questions and answers]
Complaint about teeth whitening
Question: Hello I have a couple of days ago got my top 6 front teeth bleached at my dentist. My one incisor is a slightly darker than the other, when it in order to use my dentist's words, is "the sand" after a blow from mælketanden blurted out when I was about. 3 years old. During the whitening was the first for themselves, with a product... [See questions and answers]
There is no guarantee for bad workmanship?
Question: Hi, I have a question regarding a broken tooth due. a root canal treatment. Now I can see in one of your replies that there is no guarantee for root canal treatment?? I got in the month of march made a root canal, and it looked fine, said the dentist, but now there broken a piece of the tooth and the treatment is also broken, when I... [See questions and answers]
Complications after root canal treatment. Who pays?
Question: I have made a root canal in my tooth, and when this began to crumble, I made a crown instead (in the month of February 2009). Now I have got an infection in the same tooth, which has developed into a large tooth abscess. It has been incredibly painful and has been on the pencilinkur and pain. I have today (d. 7/9-09) has been... [See questions and answers]
"Previous page