Questions answered by the dentist can be posted on the portal in anonymous form. However, we can not guarantee answers to all the questions and answers from the dentist can never replace dialogue or consultation with a private doctor. A reply through the letterbox must be seen as informational material.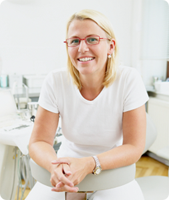 Last answered questions in the "Letterbox"
Temporary filling in a root canal
Question: Hello.... I started a root canal of a molar. By 1. Dentist visit I had great pain and much inflammation in the tooth, got cleaned and had in addition to antibiotics. There was much a temporary filling and the agreed new time after about 3 weeks. There was a little cracking the temporary filling. 2. Dentist visit showed... [See questions and answers]
Sting after the removal of the visdomstand
Question: Hello I have 14 days time ago been up and have removed my visdomstand in undermunden. Here said my tandlaege that the stitches would disappear by itself. I have least in other places, that it is normal to have them removed within a week, since traaden else can get to grow together with the meat. Now I'm starting to become a bit concerned... [See questions and answers]
Pain after replacement of amalgam fillings
Question: Hi, I've just changed the 8 amalganfylninger. After this treatment, I can't chew on the second enn myk food. It is smertefult y drink cold and hot. It is smertefult if I biter my tender hard together. Are the new composite fylninger for myke? Or must it porselen fylninger for? Mvh Torstein Answer: Dear Torstein, It is very... [See questions and answers]
Parts of the root are left after tooth extraction
Question: Hello Has just got the pull a visdomstand out, it was not quite as it should, a small piece of root he could not get free, and he was afraid to push it up in the jaw, he did not think it would hurt that it was sitting, what do you think ? Regards Ulla Answer: Dear Ulla, If there has not been the inflammation within, it should not give... [See questions and answers]
Can I still get my medical record?
Question: Hello. I never got assigned me a new dentist, when I turned 18. Is it still possible to get my medical records transferred or "throw" the kommunaletandpleje it out? It should just be said that it is 3 years since I turned 18. And, unfortunately, has not been at the dentist since, due to private reasons. kind regards karina Answer: Dear... [See questions and answers]
Hole after removed visdomstand
Question: Hello. It is now 9 days since I've had surgery a lower visdomstand out, and got rid of the stitches, as planned, for a couple of days ago. But have now looked at the wound in there and have noticed that there is a gap in there, where the tooth has been, it is not supposed that it should have been covered, so dirt can't collect herself... [See questions and answers]
Can I have ground a tooth down?
Question: Hi, I have a very tip to the tooth. I almost just got my hanger and I actually well to the peace, except that I have a tooth, it goes much further down than the other teeth and when I smile I can feel it on my lips and if I push can I push it out of the mouth, while the other teeth are still inside the mouths.... [See questions and answers]
Swollen gums
Question: Hello I have a boy of 13 years where his gums are swollen. He has no evil in it but synsmæssigt it doesn't look pretty. He has had it for many years and we have always been told of dentistry, that it will disappear if we push the (forsigttigt) on it. But nothing has helped. What can we do to remedy it Answer: Dear Jan, If... [See questions and answers]
Dentist spilled acid.
Question: My mother was to the dentist today to get a lost crown put on again, the dentist had to clean the tooth he lost as a small drop at the lip of my mother, she thought, not far above, she could feel that the bed a little but worse it was not. But now that she has come home she has got a white/transparent bulge on the lip... [See questions and answers]
Orthodontics – a large overbid
Question: My daughter has megaoverbid/crooked teeth in overmund, has been røntget to the hangers but nothing happens, yes, kept going with the older kids ska first, can this be true,the other for the braces on for a single tooth in her class,while she genres of her and also has trouble with the ku brush them correctly. ??? Answer: Dear anne-grethe, If... [See questions and answers]
Pain again, again
Question: My 5'is in the left-hand sides undermund hurts. I have had problems with dental pain in the for several years. It is rodbehandlet, but still pain. Drilled out again. Still feel pain. Penicillin, Primcillin several times and Metronidasol 1X. Last roddehandl.for almost 3 years ago, where I was given penicillin several times. The dentist said... [See questions and answers]
Double bill for root canal treatment
Question: I was to the dentist on Thursday and Friday and got rodbehandlet the same tooth at the same tandlægehus. On Friday I got apparently cleaned out more than a day in advance. Have had severe pain in the tooth.. So therefore they chose apparently to give me the root canal treatment again.Have been told it costs 3-4000 to be rodbehandlet. They cleaned... [See questions and answers]
Complain about tandprotese
Question: I just heard on the radio that you can complain about a dental treatment, but was unfortunately not quite grasp in the "address" you Can help me. Thank you in advance With kind regards Lone Answer: Dear Lone, It may have been the patient complaints board, you have heard about on the radio. The patient complaints board acts as one single entrance for patients, as... [See questions and answers]
"Previous page — Next page "